5 Awesome Free Android Ringtone Apps
Update January 2013:  Because of the popularity of this article, I've added a sixth free android ringtone app: Ringtone DJ Pro.
Getting tired of the same old ringtones on your Android phone? Find your free android ringtone app here! The Android Market provides many free solutions with countless applications to help you create new ringtones and notification sounds, while opening you up to many more existing sound bytes and ringtones. I've chosen 5 of the best free applications that will give you the ability to create new ringtones, choose from existing, shuffle ringtones and apply ringtones to your groups. Enjoy! Check out these Android Ringtone Apps when you're done.
1) Zedge Ringtones & Wallpaper 4.5 Stars, 6836 ratings, more than 250K downloads
Zedge is a nice combination application that features a very large collection of ringtones and wallpaper shared by 16 million Zedge members. You can apply ringtones from the app or from the Android settings menu.
2) Mabilo Ringtones 4 Stars, 16k ratings, more than 250K downloads
A nice alternative to Zedge. Like Zedge, Mabilo is a user generated database of more than 200K free mp3 ringtones and sounds. You can use set as a ringtone, notification sound, assign to your contacts or send to your friends.
3) Ringdroid 4.5 Stars, 45K ratings, more than 250K downloads
Create your own ringtones by editing one of the music mp3s in your library. You can also record a new ringtone directly from your Android phone.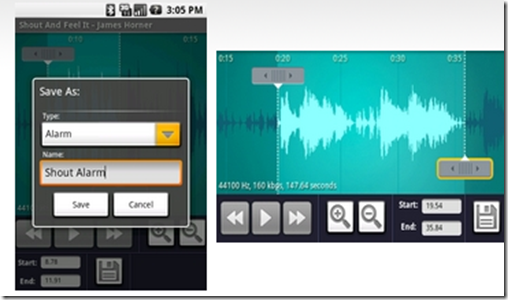 4) Shuffle Tone 2.0 4.5 Stars, 283 ratings, 10k – 50k downloads
Shuffles playlists of ringtones for your calls and texts.
5) Group Ringtones 4.5 Stars, 88 ratings, 10k – 50k downloads
Assign ringtones to existing groups in your contacts. For example, you can set specific tones for a friends group, family group, coworker group, etc.
6) Winner of the Best Ringtone App of 2011 was the Ringtone DJ Pro App.
The iTunes Store description tells us:
Get rid of boring RINGTONES or ALERT tones and make yourself a new one! Be the DJ of your iPhone or iPod!
I hope you found the free android ringtone app that you were looking for. Happy ringing=)